how kpi variability drives costs and impacts productivity
---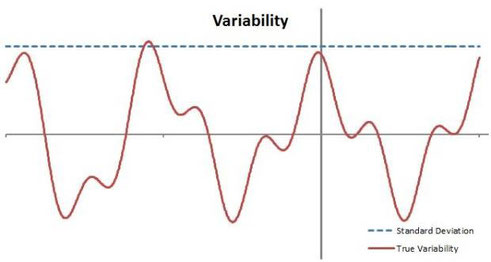 Un-managed variability of the Key Performance indicators that impact cost, process performance and quality is the root of all evil in a parts manufacturing environment.
In a parts manufacturing environment, variability is the bane of everyone's existence.  As acceptable product specifications get tighter and tighter, the degree of allowable variation continues to shrink.  However as companies try and "Lean-out" their process, they realize even variation that exists within acceptable limits can be a significant source of waste or wasteful activity.  Variability therefore is either the source of significant manufacturing events requiring urgent containment actions, or it is a source of wasteful activity that needs to be addressed in order to compete in a global market where every cost has to be closely scrutinized and evaluated.  
Now I am not arguing that every parameter within a manufacturing environment is important or that the cost associated with putting controls focused on reducing variability is automatically justified, what I am saying is that companies that have been able to:
Identify the Key Performance Indicators that impact the performance of their process,

Consistently

 measure the 

variability

 at an appropriate frequency,

Use reliable and timely data to assess the cost/risk associated with that variability,

And cost justify sustainable methods to reduce that variability
are leading the World Class Manufacturing race.  
Most plants have figured out how to control the variability of their product to ensure they are consistently meeting their quality and delivery targets. Unfortunately, many of these same plant are utilizing containment actions or preventative measures to reach these high profile goals.  Both prevention and containment however are extremely wasteful activities.  They mean that the plant doesn't really understand what variable or combination of variables are crossing thresholds, which ultimately leads to the quality or availability event.  
When you don't know what variables matter, you cant measure them and therefore you can't know when you are crossing a performance threshold, leaving prevention as the only deliberate strategy.  
Perfection is an unattainable ideal, however its what we should always be working towards, knocking off one prioritized variable at a time.  The ideal is to know cause and effect for every parameter that matters within your facility.  An unattainable ideal.  However the act of relentlessly identifying, assessing, controlling and then reducing the cost associated with managing your Key Performance Indicators, is built into the culture of World Class Manufacturers.  As technology continues to march forward, we are being given more and more opportunity to identify and control the variables that matter in our manufacturing processes.  
Variability is truly the root of all evil, however its also what lets us separate ourselves, our focus and our results from everyone else.  Without variability there would be no challenge, no differentiation.  Its how we handle variability that makes the difference in business and in life.