Layered Audits, a short story about my ZQ Audit last week with Nick and the effectiveness of fluid decontamination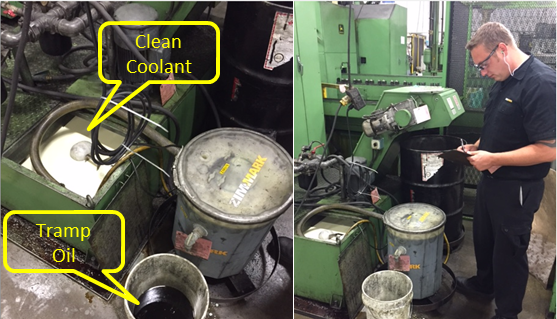 I was recently visiting a customer facility to conduct a ZQ audit with our Account Supervisor Nick reviewing Zimmark's onsite Technicians and equipment, focused on our safety & quality systems. During our audit we selected to review a small sump side coalescer that was removing tramp oil from a small machining sump. 
---
I asked Nick the question "How effective is this?" Visually I could see the coolant in the sump was clean and the tramp oil that was being removed was very dirty.  So Nick logged onto his computer and showed me the KPI's from Z-TPM.com that were being monitored by Zimmark on that machine, specifically the free oil. Focusing on the free oil chart, it was clear to me that when the unit was installed in September 2014 there was a significant impact on the free oil performance. Before installing the unit the free oil would have max values of 5 and averaged 3, now it has had a max value of 2 and averaged of 1.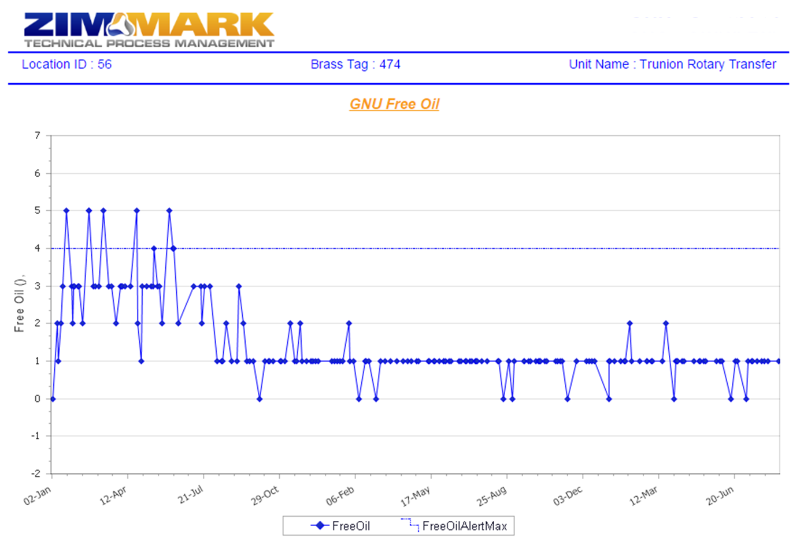 So I asked Nick "How does reducing the free oil levels impact the coolant performance in the sump?" Nick showed me the machine history on Z-TPM.com that before the coalescer was installed they would have to dump and clean out the sump every 158 days, now it is being dumped and cleaned out every 282 days which was about a 78% improvement in bath life. I then asked Nick "what kind of cost savings does a 78% improvement in bath life yield?" Nick showed me that between the coolant and waste costs saved from extending the bath life, the customer was saving 44% a year of its fluid operating cost on this machine from before, not including the labor and downtime savings of not having to shut down the machine to clean it out. My response "Cool, great job!"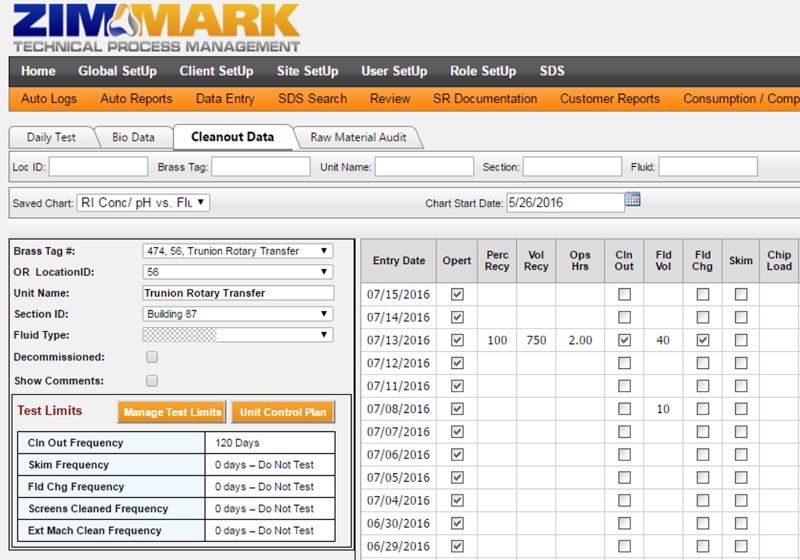 Zimmark's Technical Process Management service provides our client with three fundamental things:
Our client was struggling with heavy tramp oil contamination from their old equipment which was increasing the free oil levels in the coolant sump resulting in the coolant needed to be changed out more often. After reviewing the data on our monthly fluid performance reports, our experts identified a potential solution to decontaminate the sump with a low cost coalescing technology and reviewed this solution with the client who authorized its implementation.  To ensure its effectiveness, Zimmark performs the necessary PM required to keep the coalescer running well and monitors this performance from the fluid KPI.
Click here to learn more about Zimmark's services and our approach to managing our customer's non-core processes. 
---