---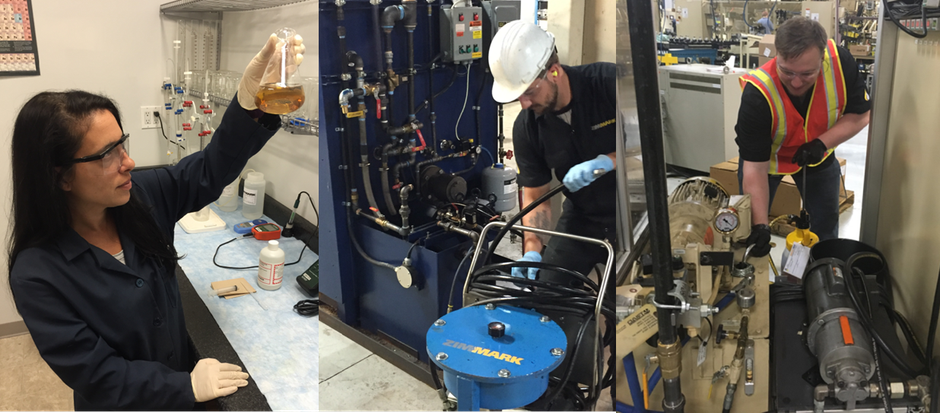 ---
No, most of us don't want to put contaminated food into our body. Then why would you use contaminated equipment when handling and topping up your machine's hydraulic systems? The same logic applies with proper equipment lubrication methods. Machines don't like contaminated oil in their hydraulic systems.
Don't laugh, we have been asked "Can you test our oil quality in this machine? We have been struggling with servo valves issues all month?" We respond "yes" but upon approaching the machine we see that the hydraulic tank cap is off, a large dirty funnel left in and a dirty coffee can next to it used by the operators to top-up the oil every other day. So why do I get the feeling they don't need an oil analysis to tell them they have a problem.
Dave is demonstrating how to perform a hydraulic top-up with one of our new Lube Technicians in Tennessee. Using the pre-filtered oil, in a proper dispensing container, Dave walks through the training process covering items such as:
·         PPE Requirements
·         LOTO
·         Top -Up Procedures
·         Inspection of
o   Fluid levels
o   Pressures
o   Temperature
o   Breathers
o   Desiccants
o   Leaks
·         Filter Replacement
·         Oil Sampling Methods
The data is than recorded on his test logs and scans it into our online system. Our system then compares the data entered to the control plan requirements which generates both the Daily Data Compliance report and the Limit Alert Reports. These systems and tools help our Technician to ensure the processes we are monitoring are in control, providing our customers with a robust service ensuring quality control and process performance is maintained.
If you like to learn more about Zimmark's lubrication management services, visit us at www.zimmark.com or call us at 888-632-5410.
---