---
In his brilliant and high energy Ted Talk, Eddie Obeng challenges us to question everything we think we know.  He argues that the pace of information and data has flipped everything we "know" on its ear.  Because the rate of change has out paced the rate of our ability to learn, conclusions or truths we believed about in the past, don't hold up in today's world.  Things that were impossible once, are no longer impossible,  Cause and effect that existed not so long ago, no longer holds true as new rules, technologies and insights change the game.  
---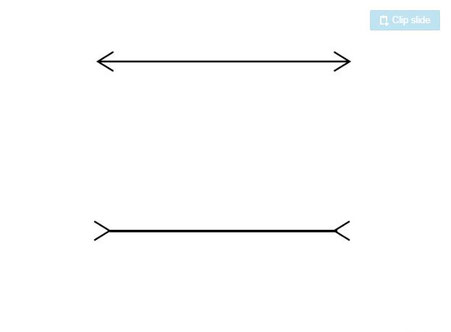 How does that relate to these lines? Well, which one is longer?  I bet you would have said they are the same because it was what we were taught in grade school to show us Parallax. 
We said it without thinking or evaluating.  We did it without data and we did it without any real thought, we already "knew" the answer.
But what if the rules had changed?  what if instead of using this as an example to illustrate Parallax, this is an example to illustrate that knowns are not always knowns, in a world where the pace of change out strips our ability to learn and keep up?
---
Because in fact the rules did change, and the lines were intentionally drawn so that the top line is 10% longer.  
OK, what does this have to do with a Parts Manufacturing environment?  Well, we run into "knowns" all the time.  The operator that knows what color his coolant runs best at, the engineer that knows that this coolant delivers better tool life than that one, the Maintenance Manager that knows that a Preventative Maintenance strategy is the best way to maximize plant up-time.  
But are these knowns true?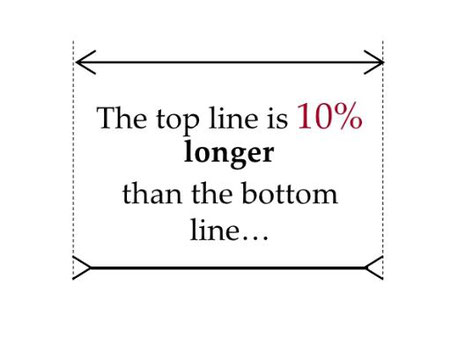 ---
At Zimmark we like Data and try not to assume anything.  We suspect before we know and then use data and time to confirm.
That said, we do have two real knowns:
Everything in Manufacturing is a process, 
The best way to optimize any process is to identify the inputs that affect the outputs and establish robust process controls to ensure timely corrective actions are occurring to deliver world class process performance.  
Zimmark's Technical Process Management system is built around executing to a plan, a plan that changes based on the data as we work to balance performance and cost.  Designed to maximize available resources, Z-TPM helps clients looking to move from a reactive/preventative maintenance culture to one where data drives day to day activity.
Doing more with less can not be an arbitrary reduction in resources, it needs to be a planned and controlled strategy.  Z-TPM helps you get there.  
---